KK1 Tárnoki-Felvigyazó Quamatz
SCH3
OFA Good, Elbows clear ,DNA'd
AKC, SCH UScA and FCI registered
Handler Owner Trained (HOT), shown and koer'd by Gabor Szilasi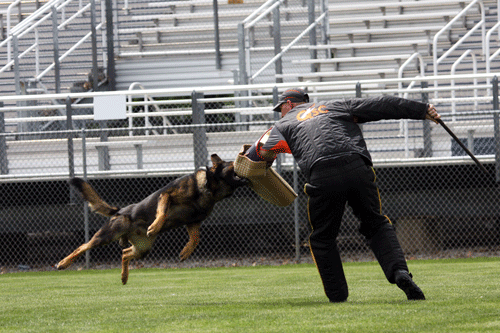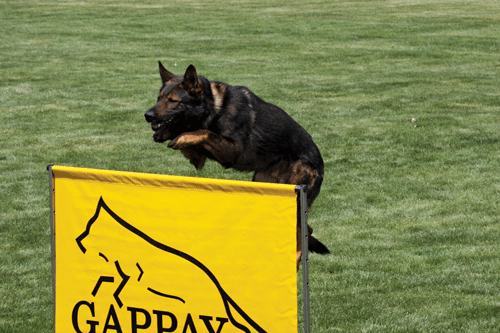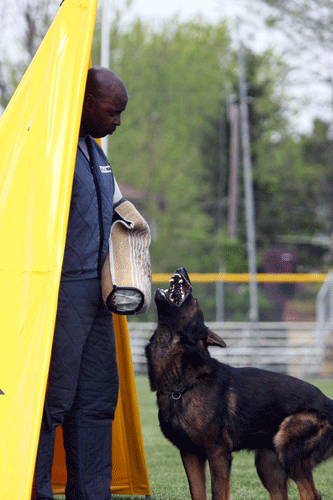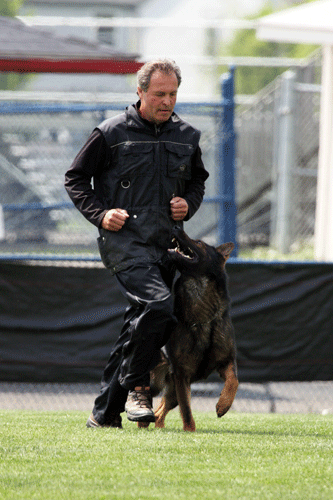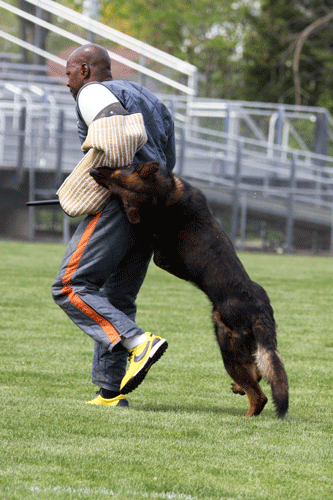 Quasi is a large powerful sable male with an outstanding German working line pedigree and a strong DDR type head. He has a very athletic, strong and agile body; he exhibits quick movements with power, joy of work and intensity is shown in all three phases. He has very strong focus and willingness to work with the handler. He has very strong drives and high energy for the work in obedience and protection. Quasi's obedience is extremely accurate and attentive with absolute focus. His grips are always full and his guards for the decoy 100% intense and attentive. This is a type of dog that works the helper, not the helper work him. Quasi is always ready to go to work, but can turn off when off the field. That off switch has been lost in so many sport only dogs today.
Quasi is from the last breeding from Vox von der Kine and is of the few dogs that carries Lord vom Gleisdreieck this close up in the pedigree. Top working kennels in Europe have used Vox with excellent results, such as vom Weinbergblick, vom haus Pixner, von der Döllenwiese, von MaKeRa, vom Waldwinkel, aus der Königshöhlehe. The Kine kennel continues to produce a very strong bloodline with intense working ability, as exhibited by Dack aus der Königshöhle, a Vox son. Dack has competed in the FCI World Championships 2008, WUSV World Championships 2008-2009, SVO Austrian Championships 2006-2009 and OKV Austrian Championships 2007, 2009.
Quasi's dam is Tina von den Wolfen. She is a V Falk von der Wolfen daughter; same pedigree, different litter to V Falko vom Wolfsblick Sch 3. Falk was bred, trained, and shown by Thomas Lapp (trainer, breeder, helper, World competitor, SV judge) of von den Wolfen (Germany). Falk is the sire of numerous titled dogs, BSP and LGA competitors; he was the most bred working dog in Germany 2004 and his progeny are active in the sport. Falk competed in the FCI world Championships in 2004, the VDH DM 2004 and the BSP 3 times (2002-2004), placing 9th 2003 and BSP V protection scores all years. 2008 WUSV (World Championships). In 2007, Falko vom Wolfsblick won the BSP as well as competing in the FCI and WUSV World Championships, and again competed in the BSP and WUSV in 2008.
Quasi has a strong genetic foundation to reproduce his temperament and strengths.
Fresh, chilled semen, as well as frozen, is available.
For more information, contact Gabor Szilasi or call 615-714-4737