V KK1 Ödenburg Adi
"a" stamp, elbows normal
AKC and FCI registered
Odenburg Adi: Video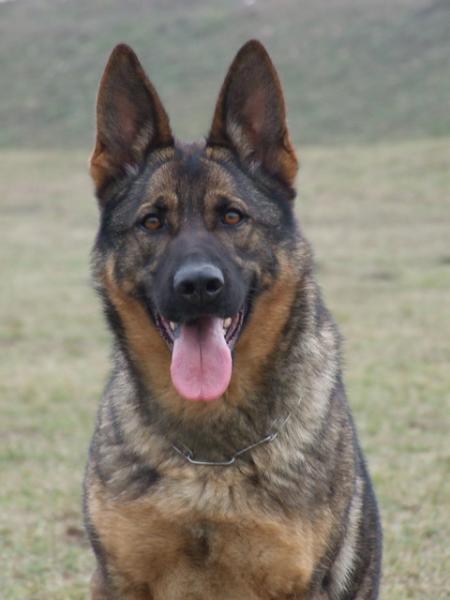 § 5 - 5 V Fero vom Zeuterner Himmelreich
§ 5 – 5 SG Mink vom Haus Wittfeld
§ 4 – 4 SG Timmy von der bösen Nachbarschaft
§ 5 – 5 V Gildo vom Körbelbach
§ 5 – 5 V Askia vom Froschgraben
§ 5 – 5 Hexe vom Körbelbach
To follow the focus on having strong females for the foundation of our breeding program, we have Adi. She is a sable female of strong and solid working ability, never ending work ethic and an incredible temperament. She is an incredible dog around children. She has a strong family bond and a great need to protect and be a part of the family. She is a medium size dog with exceptional agility and quickness.
The drive that she has for the work is instantly apparent. She show intensity and sureness in the tracking, focus, drive and joy in the obedience. She is easy to work with both excellent ball and food drive. She has a fantastic civil drive for the bite work, she is not equipment oriented at all. If you show her any agitation, she will respond with power and confidence.
She has exceptional bite drives and intensity in the bite-work; she is extremely fast and hard hitting, rivaling males in intensity. When she bites, she throws her whole body into the bite; it feels as if you have a dog twice her size on the sleeve.
Adi has a fantastic pedigree that produces consistent quality and workability.
On her dam's side, Adi goes back to the famous and strong producing N litter vom Heiligenbösch (Nixe) and Kalle vom Pendel Bach (2x BSP). Both Kalle and his littermate competed at the BSP. Kalle was one of the most popular breeding males for his actual production, not just his own work and pedigree.
On her sire's side, Adi is the daughter of Sid vom haus Pixner, one of the most successful breeding males in Germany and Europe. Sid had proven his strong genetic working ability (multiple times BSP) and well the ability to produce it as well. He has produced multiple BSP competitors across different females.